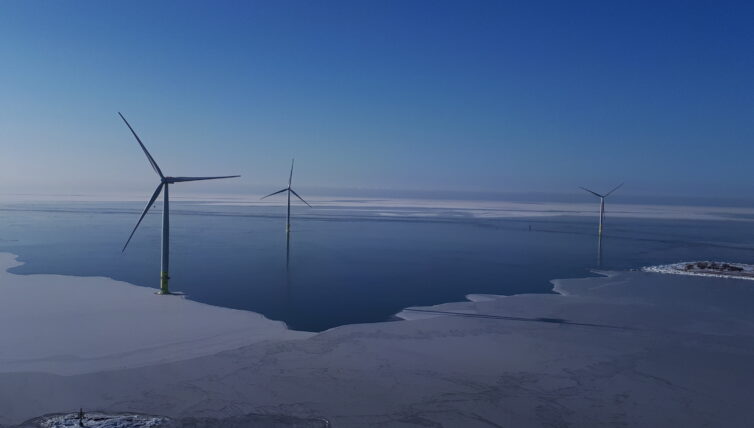 29.6.2021
Better understanding of ice is essential when planning offshore wind in the northern Baltic Sea
Team Renewable Arctic Finland has initiated the need for ice research to better understand the sea ice loads affecting offshore wind farms. The importance of the North has grown in wind power, including offshore wind power. The investors and operators need better understanding of ice and the impact on costs.
The topic has already gathered an initial consortium of interested companies, both ecosystem members and network partners, including technology providers and offshore wind developers. VTT has tentatively agreed to lead the research project. VTT is one of Europe's leading research institutions and pioneering in ice research.
The offshore wind ice research in question will utilize the reference data available, which has been gathered e.g. in measurements from lighthouses and sea markers in the Bothnian Bay. One of the main research tasks is to assess met-ocean conditions to improve the understanding of ice conditions and forces such as ice ridges and moving ice. The research also aims at instrumentation and testing of existing full-scale structures in harsh ice conditions. The gathered data will then support the subprojects which focus on offshore wind turbine foundation design in icing conditions, turbine year-around accessibility and impact of ice on electrification. Currently, there is insufficient full-scale research data available for offshore structures in freezing conditions. Full-scale data would be needed to understand the design drivers, and how to respond to them with design solutions (including park and wind turbine locations). This project will support the planning of a full-scale demonstration of offshore wind turbine in icing conditions.
The companies can join this research project either by funding the project or by integrating an R&D project to the consortium project. We are currently looking for suitable company projects under this theme. Feel free to contact us for further information by August 15th, 2021.
More information:
Anu Vaahtera
Ecosystem partnering, general information
Gaia Consulting Oy
anu.vaahtera@gaia.fi
+358 50 563 0326
Jaakko Heinonen, D.Sc. (Tech.)
Principal Scientist
Arctic Marine Technology
VTT Technical Research Centre of Finland
jaakko.heinonen@vtt.fi
+358 20 722 6907